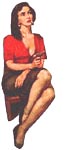 VINTAGE PAPERBACKS Good Girl Art
GGA Gallery 1
| HOME | GALLERY 2 | STORE | CONTENTS | GUEST PAGE |
| --- | --- | --- | --- | --- |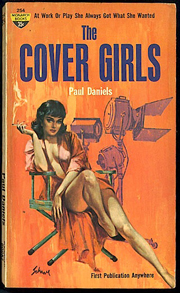 INTRODUCTION
When I started collecting over 30 some odd years ago, there wasn't much information about old paperbacks (that's what we called them) available. There were maybe 500 to 600 of us, held together by a mimeographed newsletter/fanzine. For years I was probably the only collector in my area of the country. Thus, I was fortunate enough to amass quite a few different vintage paperbacks before the supply seriously dwindled. These Galleries give me a chance to share with you (and show off) some of my favorite GGA Cover Girls.
Each Gallery consists of several pages of genres and subjects that I have found interesting. So, clicking on any thumbnail will take you to that page. Enjoy.
---
Click on any Image to go to that gallery page.
| | |
| --- | --- |
| | OK!! Had enough? No? Want some more? Well, if you click on the image on your left, or here: GALLERY 2, you will find more great Vintage GGA covers. |