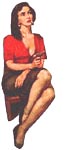 VINTAGE PAPERBACKS Good Girl Art
GGA Bell Records
---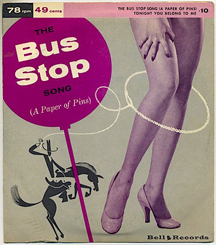 Without revisiting the history of Pocket Books, we know that other than Robert DeGraff, it involved Richard L Simon, M Lincoln Schuster (Simon & Schuster) and Leon Shimkin. Leon had a brother, Arthur, who started Golden Records in 1948 to complement the new Little Golden Books line from Simon & Schuster. In 1954 Arthur Shimkin also started the Bell Records label which, according to the jackets, was "Distributed by Pocket Books, Inc." According to one on-line historian, "There is little of collectors' interest on the original Bell records of the '50s. They generally tended toward cover versions of popular hits of the times, much as the Tops label did, or "generic" non-hit pop. They were burdened with an unattractive label design that made them look more like cheap children's records, right down to the "Non-Breakable" tag proudly displayed on the bottom of the label."
Indeed, these are 7 inch, 78 RPM records that sold for 49 cents, probably through 5&10 Cent Stores and Department Stores. They come in illustrated sleeves, different images on both sides, some photos (mostly of girls including Jayne Mansfield), and some with graphic art. None of the ones I've seen have the Non-Breakable tag or look like cheap children's records, especially the ones with Jayne Mansfield on the jacket.
I've seen no information on the relationship between Bell and Pocket Books and can only guess that the brothers agreed to distribute the records through the channels developed by Pocket Books. This was probably a short lived arrangement as Bell soon went moribund only to be resurrected as an R&B label a few years later and eventually became part of Arista.
I have not played any of the records, lacking a 78 RPM turntable. There were at least 14 of these and I have seen some on eBay if anyone wants to augment their Pocket Book collection. Here's what I have:
#2 Stranded in the Jungle / I Almost Lost my Mind (Both covers have stock Jayne Mansfield photos)
#4 The Fool / Born to be With You (One cover shows the young Edna McGriff)
#6 The Old Philosopher / The Middle of the House
#7 After the Lights Go Down Low / Just Walking in the Rain
#10 Tonight You Belong to Me / The Bus Stop Song (Nice leg art cover)
#12 True Love / You ll Never, Never Know I Care (One nice stock Jayne Mansfield photo cover)
#14 I Can't Love You Enough / Lay Down Your Arms
---
Click on Any Image to see full size cover reproduction, then your Browser's BACK function to return to this page.
| | |
| --- | --- |
| | This is one of three Jayne Mansfield covers, all of which are obviously stock photos. The other two are shown below. |
| | The singer on many of these records is Edna McGriff, a minor R&B singer, who had a huge hit with "Heavenly Father" in 1952. She had no follow up and was washed up at the age of 20. For more on biographical info, go to Edna McGriff . |
| | Here is an example of one of the graphic design covers. They varied from the primitive to the bizarre. |
Here are some more:
Return to the Leg Art page.