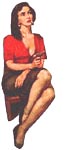 VINTAGE PAPERBACKS Good Girl Art
GGA Reginald Heade
---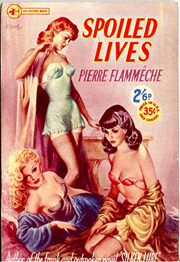 Reginald Heade was probably the best British "girlie" paperback cover artist of the 1950s. He was born in 1902 or 1903 - there is no record of his birth in England. He died in 1957, leaving no children, no will and no evidence of his existence other than his signatures on those gorgeous covers he produced. And in 1954, he even stopped signing his work, when the publisher of the books he illustrated went to jail on obscenity charges. Heade produced over 300 covers, most of them impossible to find. He is not listed in any British standard artist references - no one even recalls meeting him. A true man of mystery. The book on the left is one of his best - three lovelies in their fancy undies.
If you are interested in Heade, Steve Chibnall published a small booklet titled: Reginald Heade: England's Greatest Artist in 1991, with many color reproductions and an extensive check-list. Here are the few I have:
---
Click on Any Image to see full size cover reproduction, then your Browser's BACK function to return to this page.
| | | |
| --- | --- | --- |
| | | Like Spoiled Lives, this is one of the 50 or so Archer Books distributed by Kaywin Publishers in Cleveland. These are the only ones that got to the US, although you will see some from Harborough Publishing from time to time. Leisure Books also reprinted a number of British paperbacks with Heade covers. See Make Mine A Shroud and a couple of others below. |
| | | We saw this one among the Drug books and is worth seeing again. One of Heade's best known images for Archer. Some of these books were meant to imitate American gangster books, and are now called just that - Gangster Books. They also set out to sensationalise but are relatively tame to today's standards. |
| | | Here we have the British equivalent of what we now call our 1950s "sleaze" paperbacks. However, even the hot cover and title did not elevate these books above mild eroticism |
| | | This is Heade at his best with the Brute and the Fair Maiden. What's left of her dress seems to be held up by her nipples. See the images above this one for more 2-sided tape and other 'wardrobe malfunctions'. You gotta love it. |
| | | Here is one of the rare Hank Janson covers that Heade did. As a bonus, there is a second Heade cover on the back. Two for one - it doesn't get much better than this. See all the Janson covers on the Hank Janson page. |
Here are a few more: