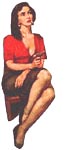 VINTAGE PAPERBACKS Good Girl Art
GGA Violent Femmes
---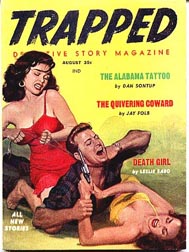 Most vintage paperbacks show women as either objects of desire or victims of violence or both. When seen as objects of desire, they seem to be calling the shots and manipulating the men interested in them. And they probably are in charge until that desire is met and are then discarded. This group of covers reverses that trend and shows the woman as the aggressor. These are different from the Gun Molls where the gun is the "equalizer". No guns here. Whips, ropes, spiked heels and bare hands. Take a look:
---
Click on Any Image to see full size cover reproduction, then your Browser's BACK function to return to this page.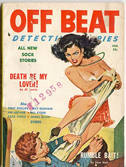 This cover and the one above are actually digest sizes periodicals, both of which featured great covers with wild, wild women, singly and in pairs, beating up on men. Maybe women bought all of these up because they are hard to find.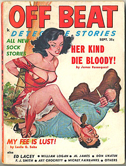 One more issue of Off Beat but it's hard to decide who's in worse trouble here.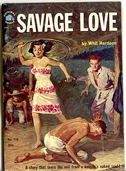 Another digest, although not a periodical, with a whipping cover by the great Rudolph Belarski. Who is this wimp letting the frail wail him? Book was written by Harry Whittington under one of his aliases.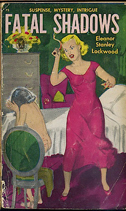 Or how about a 'mother' whipping a naked child? This strange cover comes from Canada. The book is "a story of mystery and intriguing suspense laid against a background of drawing room sophistication. An incessant stream of bubbling repartee between the rather delightful people of wealth and elegance who move through this tale lightens what would otherwise be a heavy mystery." and "This engrossing and entertaining novel has the flavor of a Mr. and Mrs. North adventure or an American version of Wodehouse without the comedy". How about that? The cover makes that quite clear.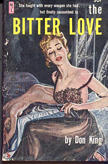 We have assumed that all of this mayhem is directed at men. Here is another view and proof that other kinds of relationships can also go bad.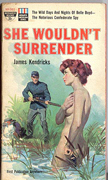 Written by Gardner Fox and based on a true story. Has a great Robert Maguire cover. These last 2 actually do involve a gun but are not like the Gun Molls shown in a different page.
Is it bad to throw in a magazine cover?.
Here are a few more: