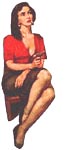 VINTAGE PAPERBACKS Good Girl Art
GGA If He Hollers
---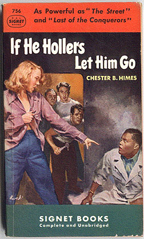 Most of the Vintage Paperbacks in these pages are fun and funny, but the books on this page are a more delicate matter. Some people say that they are artifacts of a different era and others argue that racism is racism wherever you find it. That's probably true except in the marketplace, where Vintage Paperbacks by black authors or with black themes command a considerable financial mark-up (along with drug, JD and lesbian books). They are what they are.
Pyramid Books seems to have had the corner on the market for inter-racial books in the 50s. Bantam and Signet had some of the more "serious" books and even a couple of black authors, including the great Chester Himes. If He Hollers Let Him Go was his first novel and cover artist James Avati immediately went for the stereotypic throat. The accusing white woman, the angry white youths, the bewildered young black man. What a scene! There were also a surprising number of books dealing with white men and women of color, after all, the paperback market was aimed at men. Here are some more:
---
Click on Any Image to see full size cover reproduction, then your Browser's BACK function to return to this page.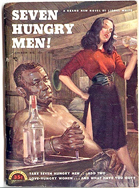 OK, above is the literature - here is the sleaze. This is a scarce Rainbow Digest with an incomperable George Gross cover. Click on the thumbnail and see this great cover almost full size. It doesn't get much better than this.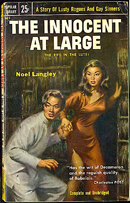 Books about blacks and Indians were not uncommon but seeing Asians on covers was fairly scarce, that is, other than the Yellow Menace of pulps or the buck toothed Japs on WW II books. As for this cover, we all know that Asian beauties wear dresses with slits up the side.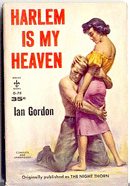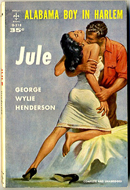 Here we turn it around with a Texan (read 'racist') falling for a black woman who is 'passing' for white. 'Passing' was another 50s literary trick often used as a last page revelation to shock the reader. Lame. I've added Jule here to compare two great similar covers - there's a quite different cover for this title below.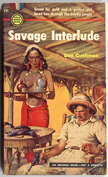 When it came to 'native' women, all bets were off. Whatever. It was also OK to show bare breasts on native women (like in National Geographics), although none of them had nipples.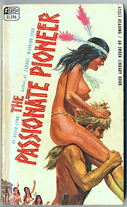 By 1967 nipples were OK but still only on 'native' women. Stick a couple of feathers in her hair and, Voila, a Native American woman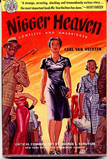 Nigger Heaven is a special book. It claims to 'tear away the dark clouds of misunderstanding and prejudice'. It comes complete with a Glossary of 'Negro Words and Phrases', an Author's Note and a Critical Commentary to justify the unfortunate title. Mr Van Vechten claims that 'many Negroes are my intimate friends' and has taken it upon himself to explain the black man to white folks. Obviously a hightly sought after book by collectors.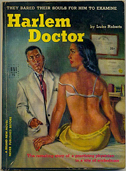 While not great art, this is one of the few digests that features black people in a normal setting, albeit, slightly sleazy in keeping with the GGA genre.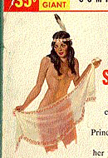 From the mid 50s till around 1960, Popular Library books often had one or two small back cover illustrations that were different from the front cover. Sometimes they were more tongue in cheek and usually delightful. Here are two from Savage Cavalier in keeping with our naked natives theme.
Here are a few more: