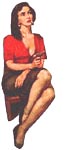 VINTAGE PAPERBACKS
GOOD GIRL ART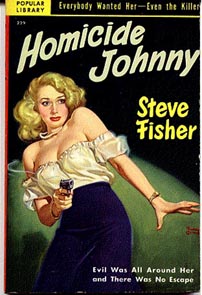 GOOD GIRL ART PAPERBACKS
Good Girl Art, usually shortened to GGA, is the term that describes certain types of Vintage Art, and specifically Paperback Cover Art. Richard Lupoff in his The Great American Paperback defines it as "A cover illustration depicting an attractive young woman, usually in skimpy or form-fitting clothing, and designed for (mild erotic interest). The term does not apply to the morality of the 'good girl', who is often a gun moll, tough cookie, or wicked temptress." The GGA designation seems to have originated with comic books and is usually applied to attractive sexy young women who are either in peril or are perpetrating the peril like my favorite gun moll on the right. So it is often politically incorrect but can also be empowering when at the right end of a gun. To see some of my favorite GGA covers from early Paperbacks and Pulps go directly to the Gallery or go to the Table of Contents, to see what is here.

For those of you who have been here before, click on Latest Addition to see the, well...the latest additions. Finally there is my Guest Page where you, dear reader, get to put up your favorite GGA cover(s).

I periodically post Vintage Paperbacks on eBay - Click eBay to see my current listings.


---

Last updated: 4 January 2023
Webmaster: Alex Henzel
© copyright 2003-2022 Vintage Paperbacks: GGA